Lawrence Ellis Biography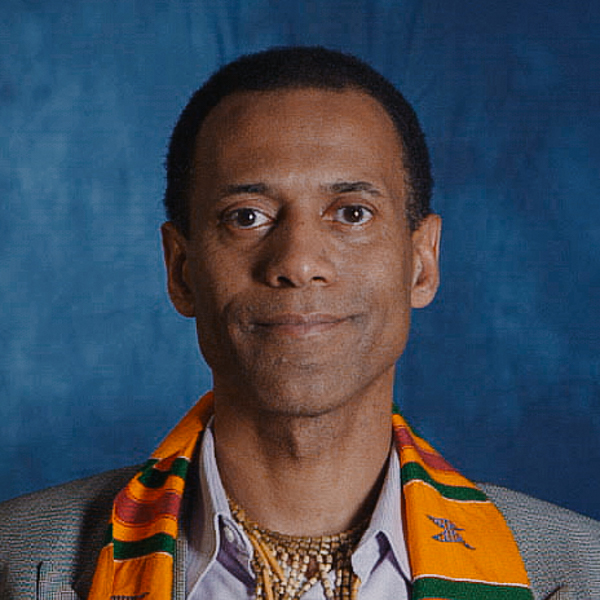 Lawrence Ellis comes from peoples of Africa and Turtle Island (North America). He is a mix of African (several Southern and Western African peoples, with deep affinities with the Dagara people), African American, Native American (Ani-Yunwiya [Cherokee and Munsee]) peoples. Raised away from many (though not all) of his ancestral traditions, much of his life has focused on returning to those traditions, and on bridging the best of ancient wisdom and contemporary innovations – in support of more holistic, ecological, interconnected ways of being.
Lawrence is a complex-systems organizational consultant (one who applies insights from the study of complex systems in nature, society and science to human organizations), and a proponent of "full-spectrum sustainability" – leveraging all dimensions of human presence and activity in support of a viable future.  His initial training in both fields was at Oxford University on a Rhodes Scholarship, where he studied interdisciplinary approaches to individual & large-scale change, with a focus on the application of the principles of Gandhian nonviolence to contemporary individual, organizational and societal situations.
His life mission focuses on supporting "The Great Shift" — variously called "The Great Turning" (Joanna Macy), The Prophecy of the Eagle and the Condor (many Indigenous peoples of the Americas), "The Great Work" (Thomas Berry), among other names – shifting our planetary culture from ecological destruction, global violence on unprecedented scales and other ills, to a life-sustaining civilization. He is especially focused on combining the best of ancient wisdom traditions with contemporary innovations that promote systemic change – from personal to political to planetary – in the footsteps of luminaries like Mahatma Gandhi, Wangari Maathai, Joanna Macy, Nelson Mandela and others. His particular niche centers on similarities between several ancient worldviews (especially Buddhist & many Indigenous), and contemporary complexity science – all of which view the world as radically interconnected. Perhaps the greatest revolution of our time is in the way that we see the world, and live in it from that vantage point – a reemphasis for many ancient cultures, and a shift for many modern cultures – of seeing the world as holistic, ecological, and deeply interconnected. Much of Lawrence's work centers on highlighting this worldview of interconnectedness, and on cultivating practices and forms of social organization that embody it.
Lawrence has developed a range of ways to bring his work into the world, including high-level consulting filmmaking, transformative teaching, activism and writing. A former director with one of the world's oldest change-consulting firms, Interaction Associates, and later as an owner of his own consulting firm, Paths to Change, for more than twenty years Lawrence has worked with community-based, corporate, non-profit and public service organizations using complex-systems and conventional approaches – from leading highly successful redesigns of divisions of progressive multibillion dollar corporations and designing & facilitating a conference at Princeton University on complexity-science approaches to combating HIV/AIDS globally, to extensive work with numerous human rights & environmental organizations. One of his signature projects is credited with dramatically strengthening the language of EPA legislation, and creating twenty-five cutting-edge anti-pollution demonstration projects at regional and national levels in the U.S.
As a filmmaker, he has served in senior advisor, producer (from executive producer to lead consulting producer), and featured expert roles, collaborating with several notable directors who have won Emmy, Telly, Peabody and other awards. The focus of most of his films is on traditional Indigenous life, historically and in the context of the modern world. His most recent highlight is his role as Lead Consulting Producer of, and also Featured Expert in, the feature-length documentary, Planetary.  Planetary is the follow-up to the award-winning short film Overview, winner of a prestigious 2013 Environmental Media Award. Overview captivated audiences with astronauts' stories of what it means to see the Earth from space. Richard Branson called it "An exceptional documentary," and NPR, Cosmos and Culture called it "Breathtaking." Overview has become one of Vimeo's most viewed videos, with over 6.9 million views. Planetary interweaves stunning imagery from NASA Apollo missions with visions of the Milky Way, Buddhist monasteries in the Himalayas, and the cacophonous sounds of downtown Tokyo and Manhattan, with intimate interviews with astronauts, Indigenous elders, environmentalists, spiritual leaders, activists, cosmologists, authors and others. Through the interviews and imagery, PLANETARY sheds new light on the ways our worldview is profoundly affecting life on our planet. Lawrence also serves as Senior Advisory to the film collective behind Overview and Planetary.
Lawrence's grassroots activism and organizing – from leadership in civil disobedience campaigns that have won back wages and benefits for exploited low-wage workers, to leading one of the most effective coalitions that worked against California's Prop 8 – have gained international attention, and high praise from legendary activists such as Dolores Huerta, Van Jones and Molly McKay. At the invitation of Mahatma Gandhi's grandson, he represented the U.S. in a yatra (journey) in India commemorating Gandhi and Martin Luther King.
While Lawrence's work draws on universal values, he is especially rooted in the connective traditions, ancient traditions that place the interconnectedness of all life – and especially those that view the Earth as a living system – as primary. His quest for practices, models, traditions, and "medicine" that can awaken or deepen humanity's awareness of its interconnectedness with all life on Earth has been central to his return to his ancestral African & Native American traditions, and to his exploration of Buddhism. He especially honors the movements to reclaim his traditional role of Two Spirit in Native American cultures – and similar movements to reclaim parallel roles in African cultures.  In Buddhist traditions, for years he practiced in the communities around Vietnamese Zen master and Nobel Peace prize nominee, Thich Nhat Hanh. A Buddhist Teacher, he is mentored by meditation master and popular author, Jack Kornfield, and also by eco-philosopher, systems theorist and Buddhist scholar, Joanna Macy. In turn, he coaches and mentors many others along the path.
Lawrence lives in Oakland, California with his partner, Mike – just a few miles equidistant from one of the world's largest second-growth redwood forests; the bustling activist, green and spiritually-engaged communities that repeatedly make Oakland one of the top 10 greenest cities in the US; and his "niece" and "nephew", Marikit and Dante, whom he lived with and co-parented for several years (in the tradition of Two-Spirit, GBT (Gay-Bi-Trans) and SGL (Same-Gender-Loving): men raising children with their straight female friends), and who continue to bring endless joy to his life.